Chicago, Illinois (IL)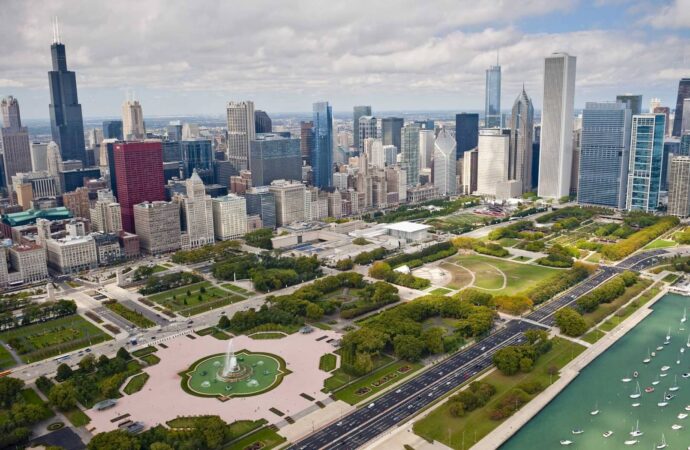 Owning a company involves having to deal with several aspects before it starts operating and of course, during and after you begin to provide your services and products. That being said, as a company yourself, you must pay attention to all the elements that allow you to continue operating without problems and while being able to conduct every process perfectly.
For this, things like ISO standards are crucial, and although not all of them are mandatory or a formal regulation for companies, you will find several benefits in implementing them. If you haven't grown familiar with these standards so far, in our company ISO Pros, we can help and support you in every single one of your needs if you are located in Chicago or any city in Illinois.
First, you need to know that ISOs are considered to be documents that provide you with the guidelines that lead any company to do things the best possible way. These standards also contain requirements that need to be met in order for your company to provide specific services or products and once you meet them, you are able to get certified. We provide both of the most important roles: implementation and certification. Our company is a qualified, validated, and experienced in implementing any type of ISO depending on your needs and the one you are looking for.
We have included the international and national standards that some companies share in common as well. This will allow you, the company, to access your specific ISO needs but also cover the general ones. In a few words, you can find all ISO options with us either if they are old, recent, or if there is a new version of them.
For example, ISO 45001 is an international normative that provides all the guidelines for security and health management systems at work. It aims to protect all workers from any accidents and sicknesses that can be caused due to working conditions or the current status of the materials provided for them to work. This standard focuses completely on giving the requirements most companies have to meet to offer a safe and healthy working space for their employees and therefore, applies for any business from any industry.
We have made sure to train our experts and professionals in all the possible ISO standards that aim for different industries and are general for any company.  
We started most of our operations in Chicago due to the demand of implementations from many companies and organizations.
But since we wanted to provide them along with the certification—is required for the client—, we decided to open offices and facilities in several cities and communities all over Illinois.
In this way, organizations are able to access our consulting, training, support, and certification services without worrying about traveling nor getting remote services and attention.  If you are wondering, "why should I hire your services among many?", the reason is that unlike other companies, we are familiar with every ISO from all industries.
These standards and the ones you will implement are not the same for all companies, and this is where many validated organizations lack in services: they are unable to provide several options in ISOs. Fortunately, we have over 40 options for you to implement, and all of them are for different industries and both mandatory or optional ISOs.
How difficult is it to implement an ISO?
We would not describe it as "difficult" but rather exhausting. These standards have over 30 pages full of guidelines and requirements people might not understand on the first run, which is probably what makes them consider it difficult. However, understanding the normative isn't the difficult part of what makes you spend a lot of energy, instead, trying to follow the requirements and changing or adding certain aspects to your company to meet them is what will require all your attention and resources.
If you are not familiar with standards, things will look difficult from your point of view. But the more you implement and get used to the normative, the easier it turns to be. Now, all this doesn't mean you have to do it alone.
Several companies around the city can provide you with consulting, support, and advice services. Not all of them will deliver what they promise but when you are able to find a reliable and experienced one, there is nothing that will stop you from meeting these standards. At ISO Pros, we can assist you with the implementation of several ISOs in your company.
After all, we are a specialized company in the area and industry that knows everything about them. Our experts are updated with every new version that comes out before it starts to be implemented or legal—since there is a period of time for this. And all of them will know how to manage your needs according to what you are trying to achieve with the standard.
This includes mandatory and optional ones. After you implement one, you are able to obtain a "seal of approval" in order for your customers, clients, or other companies to know you meet certain standards. This will bring you several benefits as more business opportunities, give security to your customers and future clients, as well as other benefits. But this is only possible if you implement it correctly and meet all the standards.
What ISOs can we help you with?
As we mentioned before, depending on your needs and the industry you are part of the standards you will have to implement are going to be completely different. However, you will find some that apply for several industries that are, for example, focused on the security areas and systems like the one we discussed at the beginning. Some others are aiming for improving quality and performance, while some standards aim for cybersecurity, among other aspects.
Since there are so many to learn and implement, we have made sure to focus on the most relevant ones where ISO 45001 is part of them. But besides it, we have noticed an increase in several ISO needs related to the following ones:
We can help you with all these standards according to which one your company needs. We are aware that they are modified, changed, or created quite often. It may be every year while others every once in a while.
However, there is always time to get familiar with them before they start to be relevant or formal regulations for your company. That being said, this doesn't mean they are the only ones you must worry about.
Standards have their variations and families. As we mentioned in a previous one, you will find some standards that are part of a general group but the one you are implementing or researching about is only for industry. This is because some ISOs are in a general matter to define the function of the rest that could be, for example, quality or performance. While others are about security, auditing, and many other aspects or areas of a company or business.
Where to find us
ISO Pros is a company near you that can guarantee you immediate service and assistance. We have offices in Chicago where you can visit us and speak with one of our experts. Or you can go for the remote option—especially during these difficult times—and call us or send a message using our contact form.
We will be answering any of your questions and doubts if needed. That being said, our services aren't limited to Chicago only. We have several professionals established all over Illinois, very close to you to help you with everything you need without allowing distance to be an issue for you or us.
Therefore, don't hesitate to reach out to us or consider the options we provide you. ISO standards aren't that simple to deal with, and even if you don't need support or auditing from us, we will be here to help you to get certified anytime. Want to know more? Feel free to have a look at the rest of our website.